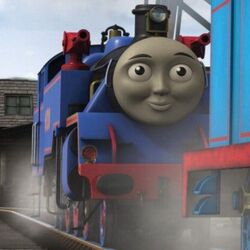 Belle
Number: 6120
Class: BR Standard 4MT Tank
Designer: Robert A. Riddles
Builder: Brighton, Derby, or Doncaster Works
Configuration: 2-6-4T
First Appearence: Day of the Diesels
Last Appearence: The Great Race
Country: Sodor
Belle is a large tank engine with water cannons who is part of the Search and Rescue Team.
Belle is a big brave blue engine. She has 2 water cannons high on her boiler from which she can shoot water to fight fires. Belle would be overwhelming if she wasn't so nice, even Cranky likes her! She wants to do her best and be the best. Belle realizes that she isn't the fire engine Sodor needs and supports Flynn in every way. In fact, when Flynn makes mistakes...it's Belle who is always there to help him out.
Belle is based on a British Railways Standard Class 4 tank engine with added water cannons, brass bell, and electric headlamps on her bufferbeam and above her face.
Belle is painted dark blue with red and brass fittings, red wheels with regal blue rims and red hyrdo-cannons. She has the number 6120 painted on her sides in gold and a crest consisting of a flame, 2 dolphins, and a crown painted on her sides.
Appearances
Edit
Specials:
King of the Railway
Sodor's Legend of the Lost Treasure
Voice Actor
Edit
Belle's fire-fighting modifications would be impractical in real life because they use all the water she needs to run.
Her water cannons are able to rotate, as well as her lamp above her smokebox.
Merchandising
Edit